Automation is changing the way we work, streamlining processes that were once thought to require hands-on human interaction. Few things are more human than the recruitment and onboarding of new talent, so it almost seems counterintuitive to talk about automating those processes. And, we may never reach the point where a computer does the recruiting, assessment, interviewing, hiring, orientation, and onboarding processes all on its own.
But automation can streamline certain parts of those functions, freeing up time for human attention where it's needed most and allowing employers to approach recruiting and onboarding as strategic business functions. And, if the 62% of Asia-Pacific CEOs who expect changes in workforce demographics to transform their businesses over the next five years are right, that's going to be more important than ever before. That's where automation can make a big difference.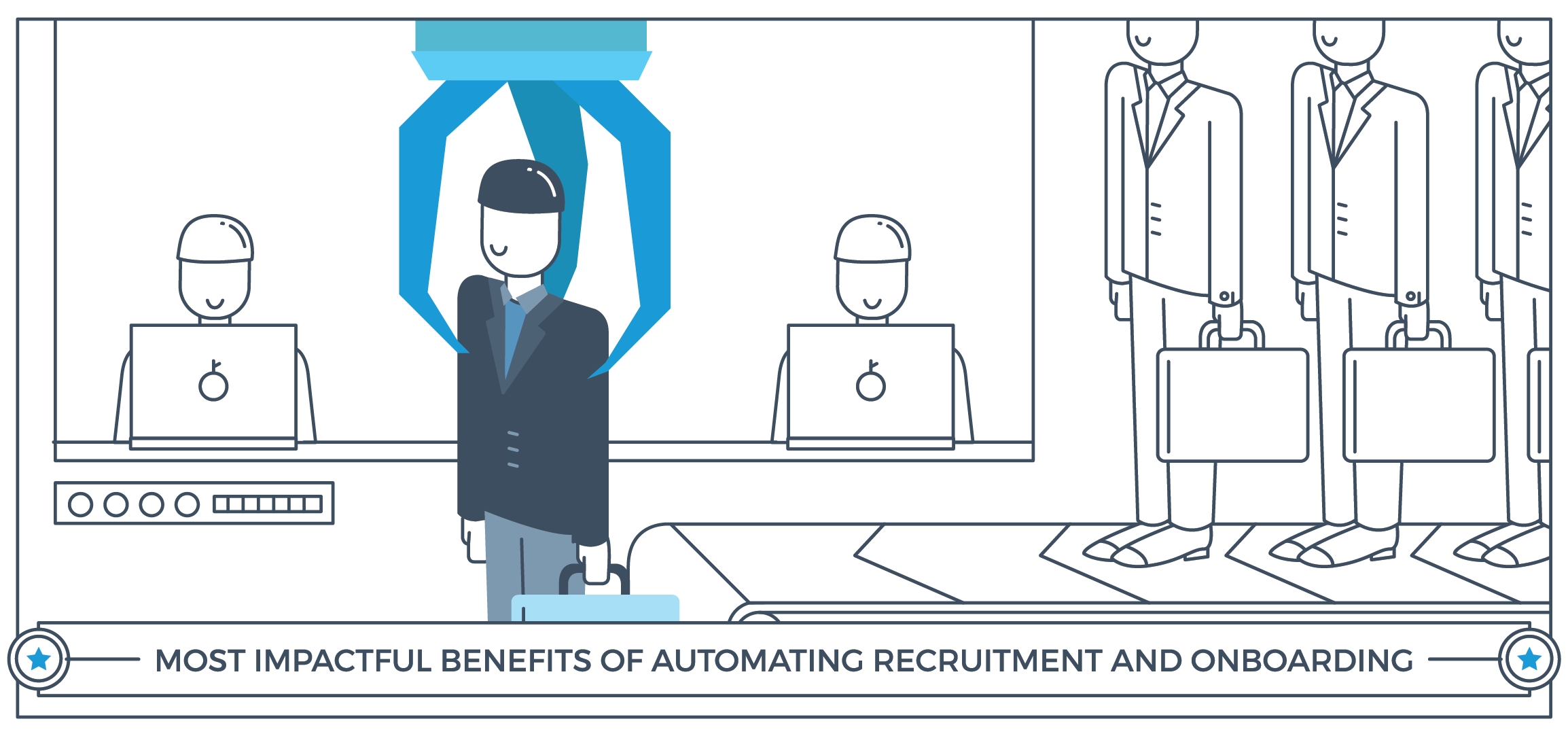 Benefits of automating recruitment
Social sourcing: Increased competition for top talent will make it necessary for employers to look beyond active job seekers and expand their efforts to include passive candidates. With the right technology, businesses can leverage their current employees' social networks. It's called social sourcing, and it takes advantage of the fact that everyone tends to socialize with like-minded people. If current employees are successful, the odds are good for finding other successful employees within their social networks. And that can make a huge impact. As John Hansen, HR leader for Oracle's Asia-Pacific region, told HrInAsia, "If a company with over 15,000 employees were to invest in intelligent referral practices such as social networking, it could increase its referrals from 10 to 15 percent of all hires, a 50% improvement."
Ease of use: Automating the "paperwork" part of the recruitment process increases productivity for everyone involved. Resumes can be uploaded directly into the program, and hiring managers and recruiters alike can search by name, keyword, skill set, education, etc. Participants in collaborative interviews can upload their notes for cross-functional visibility. And candidates can receive automated notifications of any changes in status.
Efficiency: An automated recruitment platform increases productivity. Embedded analytics, for example, can offer instant insight into metrics like cost-per-hire, time-to-hire, etc. And predictive analytics can help employers use unstructured data like social media posts to identify talent that wouldn't show up via traditional search methods.
Benefits of automating onboarding
Jumpstarting new-hire readiness: An automated onboarding process can deliver important forms and documents as soon as an offer is accepted, saving valuable time on the employee's first day.
Enhancing productivity: Not only do new employees have to figure out what they're supposed to do and how they're supposed to do it, they also have to identify and connect with everyone else involved in those processes. By analyzing past interactions, an automated onboarding solution can deliver a virtual "who's who" right to a new employee's desktop, complete with bios, tips, and guidelines.
Providing just-in-time information: New hires often get frustrated by experiencing one of two extremes: Either they get slammed with an overwhelming flow of information at once, or they become bored waiting for someone to show them what to do. An automated onboarding process can deliver the right information at the right time – via avenues like emails or podcasts – at intervals based on a specific position's needs.
The benefits of automating recruitment and onboarding have only just begun to be realized. What's clear, however, is that successful companies will be those who optimize their talent acquisition and retention processes – and automation is an extremely effective way to do that.